Diedamskopf Au-Schoppernau
Most Austrians (and maybe Germans too) know Schoppernau because of the song 'Vo Mello bis ge Schoppornou'. Sadly, it's less known for it's great ski resort, lovely landscape and broad range of summer sport activities. I'm super thankful that a good friend of mine invited me to Schoppernau to experience those great ski slopes, romantic view spots at night and super friendly people.

But let's start with some geographical information: The ski resort Diedamskopf Au-Schoppernau is located in Vorarlberg (which is in the very West of Austria, at the border to Switzerland) and consists of two small villages: Au and Schoppernau. Schoppernau has around 900 inhabitants and depends greatly on tourism.
At first sight the ski resort Diedamskopf seems to be rather small with only 2 cable cars, 2 chair lifts and 4 ski tows. However, it has various different slopes and difficulties. To be more precise it has:
| | |
| --- | --- |
| 13 km | blue (easy) slopes |
| 11 km | red (intermediate) slopes |
| 7 km | black (difficult) slopes |
If you're confused by the different slope colors you can find a good description on Wikipedia.
I was skiing for four days and I never got bored of the slopes. Especially the 'fun slopes' add some variety to the ski experience. If you prefer to have a bigger selection of slopes and lifts you can also drive 15 minutes by car to the more crowded ski resort Damüls-Mellau which has 29 lifts and over 100 km slopes.
A great advantage of Diedamskopf is that it's not crowded and most of the time you don't need to queue.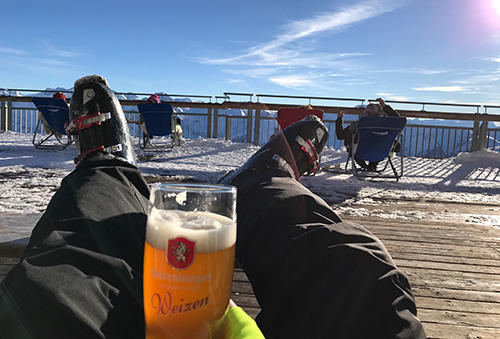 Also, there are a lot of good spots to enjoy the beautiful landscape. On sunny days I highly recommend to sit in a chair at a sunny place with a cold Weizen.
One of the things that I like most when I'm skiing is eating traditional Austrian dishes or/and drinking good coffee at cozy restaurants on the mountain.
Sadly the selection of restaurants in the ski resort Diedamskopf Au-Schoppernau is considerable small. There are only 3 restaurants on the mountain where two of them are self-serviced. I enjoyed the restaurant 'Wedelstube' (located at the cable-car mid-station) most.
Schoppernau is not only a great location for skiing but also all other kinds of winter sports like
cross-country skiing
snowshoe hiking
sledging
Additionally, it's a top spot for paragliding (I definitely have to try it out one day).
What made our vacation in Schoppernau really special was the stay at Apartment Heimböck.
The marvelous apartment is located somewhat higher than the other accommodations in the valley. This let you enjoy the sun even longer! It offers a great view over the whole village which is especially at night super romantic. What I liked most was the terrace which was covered by fresh snow (look at the picture and get jealous! 🤩).
Another huge advantage is that you can start skiing right from the apartment!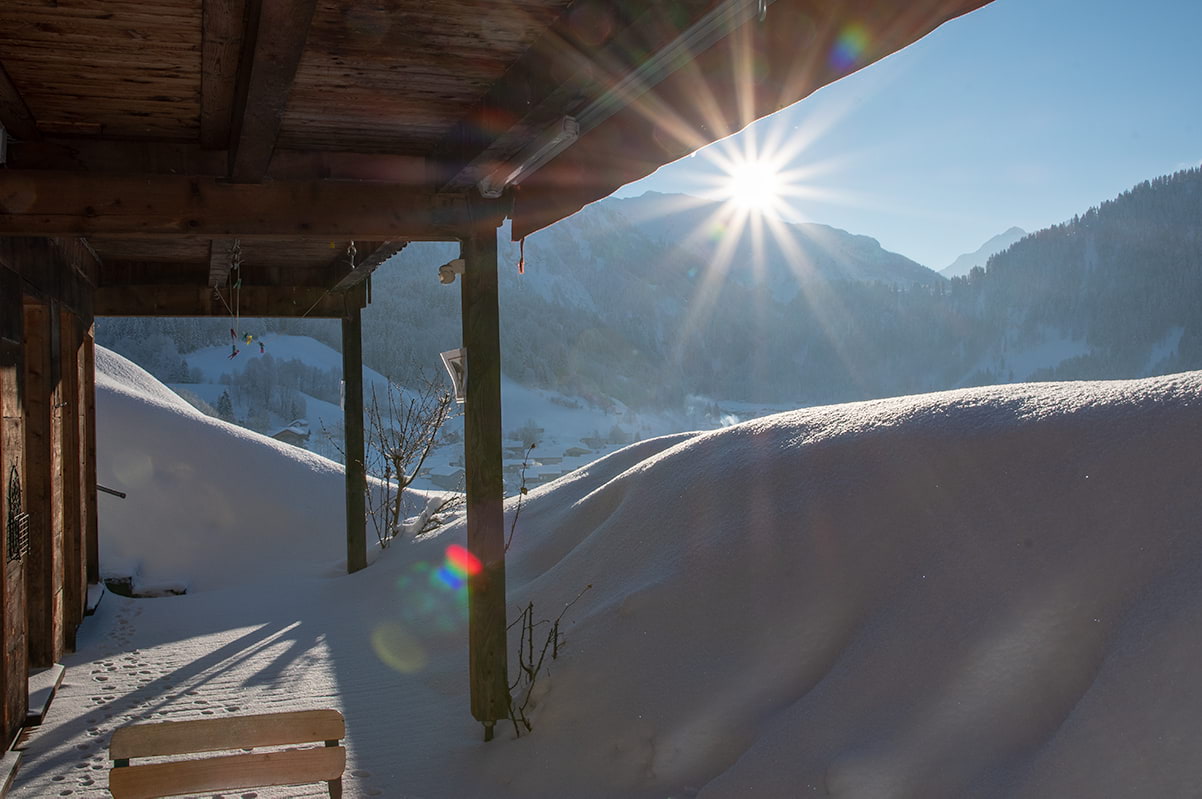 Facts about Diedamskopf Au-Schoppernau
total length of slopes:
40 km
total sum of lifts:
9 lifts
# of restaurants:
3 restaurants
Price class
Comparatively cheap
(€ 44,50 for 1 day in 2019)
Schladming
Schladming is my favorite location for skiing. It is a huge area consisting of four ski resorts: Reiteralm, Hochwurzen, Planai and Hauser Kaibling. It is probably the best resort for advanced skiers, since it has many long and difficult slopes. However, there are of course easier and shorter slopes too. You can also do Après Ski here (if you're mainly interested in Après Ski, you should rather try Saalbach).
Großarl
This is a rather calm and small ski resort (but still way bigger than Hochficht). I recommend it for beginners. It consists out of two villages: Großarl and Dorf Gastein.
Tauplitz
Tauplitz is a small ski resort that I recommend to everyone who wants to learn (or just started) skiing.
Saalbach
My favorite ski resort for Après Ski and going out. Besides the nightlife, Saalbach is a huge area with a lot of slopes. It is one of the most expensive resorts.
Hochkönig
Hochkönig is a calm ski resort with a very beautiful landscape and a variety of nice slopes. It's suitable for beginners, families and also for more advanced skiers (many professional Austrian skier train here).
Hochficht
A small ski resort with very easy slopes. Even the more difficult slopes should be suitable for people that are less experienced in skiing. Especially suitable for families with small children. Cross Country skiing and snowshoeing is also possible here. It is one of the cheaper ski resorts (it's still expensive as hell). If you want to do Après Ski you should go to another ski resort. Also, I only recommend it for one or two day trips.
Since this ski resort is very close to my hometown I can offer up to two sleeping berths at my home.
Other recommendable resorts
I've heard a lot of good things about those resorts but haven't been there by myself.
Obertauern
Ischgl
Lech Zürs
Copyright of all photos on this page by Fabian Hurnaus. Please contact me if you would like to use my photos.